Gloriosa Lily for Male-Induced Trauma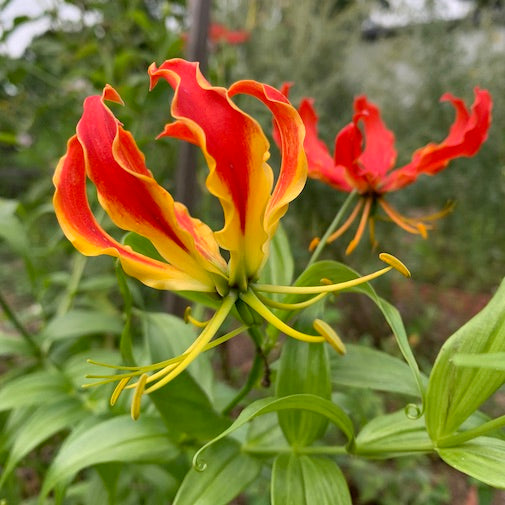 Gloriosa superba ~ elemental signature: fire
The Gloriosa Lily (also called Fire Lily because of its flame-like petals) actually belongs to the Colchicaceae family and is therefore not a true lily.  It's native to tropical zones in Africa and Asia and contains toxic alkaloids that accent its fire-element signature. In Ayurvedic medicine, the tuber of the plant has been used for gout, arthritis, hemorrhoids and many other inflammatory conditions.
We use the Gloriosa Lily essence for difficulties with the father image or for male-induced trauma. The fire element tends to bring up buried memories, emotions and negative attitudes regarding men, authority or power.
An essence such as this usually involves some processing - that is, anyone who takes it is likely to experience and need to integrate some memories and/or emotions. We find that it's often helpful to use this essence in therapeutic settings that can provide support if buried material surfaces.
In this culture, we're too often encouraged to suppress and compartmentalize our emotions which can result in tendencies and symptoms that interfere with our well-being.
You might benefit from this essence if you:
Are generally suspicious of, dislike or hate men
Distrust authority
Avoid strong personalities
Fear your own power
Avoid competition
Fear conflict
Have an eating disorder
Procrastinate
Struggle with anxiety
There are several ways to take this essence, depending on emotional maturity and lifestyle.
If you have a very busy, demanding life, we suggest that you take the essence in the evening just before bedtime.  In this way, the essence can work directly in the subconscious through the dream state.  A few nights of active, even intense dreams may follow.  If this happens, we recommend taking the essence for a week, followed by a rest period of 3-5 days.  Continue this cycle for 6 weeks.  It can be very helpful during this time to write down your dream experiences and make note of any shifts in attitudes or symptoms that may have called you try the essence.
Another dosing method involves taking the essence (3 drops, 2x/day) during the day to bring the past into the present.  In doing this, you may begin to see reflections of old wounds in your day-to-day life.  Metaphors for the father image may appear to you, and you may notice feelings surfacing that remind you of childhood experiences.  It can be helpful to make note of how past pain is directly manifesting in your current lived experience.  We suggest that you have a good support system in place, both at home and possibly with a therapist, if you choose to use the essence in this way.  The stronger your support system, the more information your subconscious will be able to safely and constructively release.
You could also limit the ingestion of the essence to specific times - for instance just before a therapy session or a group session focused on releasing the painful past.  If you choose this method, the release will be controlled and won't interfere with your day-to-day concentration and duties.
Use can use the dosage level for general emotional work and the stock level if pelvic symptoms are part of the profile.

Complementary essences include: Bull Thistle, Marshmallow, Blue Vervain, Sunflower, Motherwort and Mariposa Lily.
Click HERE if you'd like to learn more or purchase the Gloriosa Lily essence!
---
7 Responses
Leave a comment
Comments will be approved before showing up.