The Winter Tulip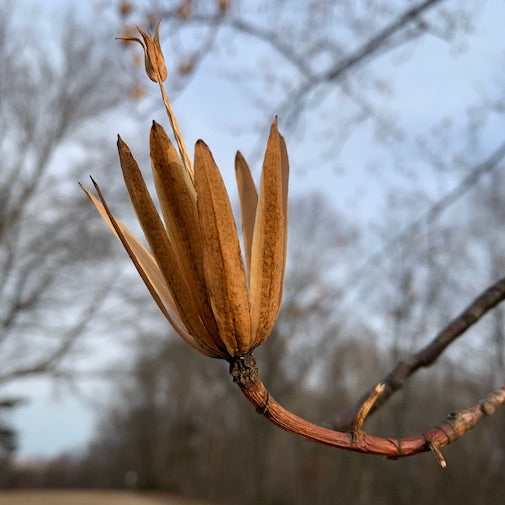 An unexpected score today!  I went for a hike this afternoon and found...an American Tulip tree (also called Tulip Poplar) on the crest of a hill in Newbury, MA.  I've wanted to make an essence of this tree for a LONG time but haven't been able to find a good source.  Most of the trees I've seen in this area are too close to a road to use for essence-making or their flowers are too high to reach. This one is just about perfect...away from civilization, plenty of low branches.
Tulip trees usually bloom in late May-early June here in MA. The flowers are mesmerizing - yellow-green cups streaked with orange. This particular tree is hanging onto a bunch of flower husks from last season (see photo). I'll head back out there in the spring to check on its progress.
I've been reading up on the American Tulip's medicinal properties - its bark contains pain-relieving salicylates that can help with headaches, arthritis, muscle aches, etc. Remedies made from the tree can also aid digestion, support the heart/cardiovascular system, and generally act as a strengthening tonic when we've been stressed or sick.
I've also read descriptions of the essence, written by a few different makers, and they all seem to be a little different. Once I make the essence, I'll work with it for a while...I'll take it, give it to friends, assemble a study group, collect and process the feedback.

I'm excited to work with this tree and finally follow my intuition to make the essence. It may be that the Tulip tree has something that *I* need at this moment. I believe we're all drawn to things in the natural world that can help us on any number of levels - emotionally, physically, spiritually. The only challenge possibly is making enough space in our lives and ourselves for this instinct to reawaken…and truly guide us through the static of daily living.
I've also noticed that whenever I take steps to develop a deeper connection with a tree or plant - especially whenever I commit to making an essence - unusual things seem to happen. Today's curiosity: as I was standing by the tree, a couple of hikers passed by with their feisty dog, off-leash. The couple disappeared into the woods, engrossed in their conversation, while the dog ran towards me, barking like crazy. Once he got close, he stopped barking and sat down at my feet where he stayed for a long time, looking at the view.
That moment with the dog was a small thing. But it was also odd and sweet, and it changed my day for the better. I don't want to layer any particular meaning onto this experience at this point, but I've noticed that events unfolding around a plant or tree that I intend to work with often reflect some aspect of the essence, itself. We'll see, come spring, whether this little anecdote connects in any way to the essence's area of influence.
If you'd like to join my week-long study group this summer to explore the essence's area of influence, please do leave a comment here. You'll receive a free, 1/2-ounce stock bottle of the Tulip Poplar essence and instructions on how to take it.  After a week, I'll get in touch and ask you to share your experiences using the remedy - which I'll then compile in report for the community.
---
15 Responses
Leave a comment
Comments will be approved before showing up.